Asphalt Construction
Recycled asphalt
Site development
Paving
Concrete
Excavating
Drains
Culverts
Road building
Flat Work
Sidewalks
Valley Gutters
Retaining walls
Demolition
Maintenance
Patching
Seal coat
Slurry seal
Crack seal
Crack routering
Chip seal
Striping
Crack/Joint Repair
Asphalt Roto-Milling
Asphalt Mastic
Driveways, Parking Lots, & Sub-divisions.
Commercial, Residential, Industrial, Municipal.
Sidewalks
Curb and Gutter
Approaches
Valley Gutters
Flat Work
Driveways
Parking Pads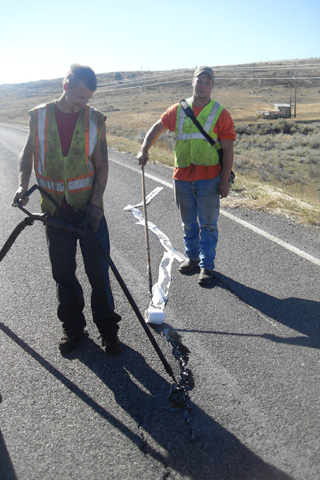 Probably the most important thing you can do to preserve your asphalt. All asphalt is going to crack no matter what you do or who you hire. There is no way around it. The big thing is water, cracks will allow water to penetrate your asphalt. Once inside it will start to eat away at your asphalt from the inside out and eventually your base. Even if you have great drainage water will still run into the cracks. Asphalt will contract and expand with the temperature getting larger during the winter, shrinking during the summer. The best method of crack sealing that will allow for movement is to router (cut cracks 3/4″ by 3/4″ or 1″ by 1/2″ depending on cracks size) cracks to create a reservoir for the sealant to sit in. The rubberized sealant (very flexible) will be applied hot (350* degrees) into the reservoir and be banded on both sides of the routered crack. This way allows for more rubber and will be flexible when the crack expands and contracts. Routered cracks will last 3 times longer. The other way is to leave cracks as is (no router) and fill to just below flush. All cracks are intentionally left low for snow removal.
Asphalt Mastic is used on highways, airports, parking lots & driveways. It is a rubber based material mixed with aggregate. Heated & applied hot. Primary uses are for those large con-caved cracks were crack sealant is no longer any use. Also for depressed areas & small to medium pot holes. This product is designed to be inexpensive & have many years of life in the 4 seasons of the North. Call us with any ?'s.
Asphalt is the most used product for roads, runways, parking lots and driveways in the world. Due to the fact that it is usually 1/2 the price of concrete and it is faster to install. It is also more flexible and easier to repair. Site work is a very important part of paving. Asphalt is only as strong as foundation it is placed on. We have the knowledge and equipment to do both site work from the ground up and paving.
We pave driveways, sub-division, parking lots, bridge replacements, roads, overlays, utility cuts and do all asphalt repairs. No job to small or big. The most important thing to remember about asphalt is to get the water off of it. Always have good positive drainage. Our highly trained and experienced personnel will be more than helpful on achieving your asphalt goals and needs. We will make sure you get the best product for you traffic volume with the most longevity.
Asphalt is made out of oil, gravel, sand and binder material. Due to natural elements (weather) asphalt over time will lose its oil and there for start to unravel. The oil holds everything together. Asphalt is also meant to be driven on the more you use it the better. The major things that deteriorate asphalt is weather (sun, rain, ice, snow), tire abrasion, chemical attack (salt, de-icer), moisture intrusion. With a simple maintenance program you can double the life of your asphalt investment. With any one of the coatings we offer it will give your asphalt a brand new jet black look. We offer  5 different types of coatings each with its own benefits and for different uses. With our experience we will help you with which seal is best suited for your needs. Always want to crack seal before any coatings is applied.
Seal Coat-Most commonly used coating there is, used on every type of asphalt. Is designed to preserve your asphalt in its present state. When properly applied it will provide a jet black, non-skid protective surface. Our seal coat is made of oil, slate and mineral filled materials to preserve and restore your asphalt. Will melt ice and snow faster. We always apply 2 coats and 3 coats in drive lanes and entrances on parking lots, driveways 2 coats and applied roughly 1/8″ in thickness. We squeegee or spray depending on situation. When done correct it will protect from surface lose of aggregate and seal against weather, chemicals and tire abrasion. Life expectancy is 3-5 years.
Sand Seal-Is same material as seal coat except it is mixed with 3-5 pounds of silica sand depending on condition of asphalt. Size of sand will vary depending on how rough and lose of aggregate is showing. Is designed for older asphalt with significant lose of aggregate and extensive surface cracking, sand will fill in rough areas and surface cracks to a nice new smooth surface protecting from water penetration. Applied same as seal coat but 1/4″ in thickness. Usually used on parking lots and large driveways. Life expectancy 5-7 years.
Polymer Modified MasterSeal (PMM)-Is a high performance polymer modified mineral filled asphalt emulsion with superior flexibility, adhesion and durability. We spray on 2 coats mixed with 4 pounds of silica sand per gallon, applied roughly 1/8″ in thickness. When finished will give asphalt a jet black look. Usually used on high traffic areas. Life expectancy 3-5 years.
Coal Tar Sealer-Is made from coal tar pitch and mixed with asphalt emulsion. This process gives it a very strong seal. Designed to stop penetration of petroleum products (gas, oil, etc.). Applied with squeegees or sprayed. We use 2 coats applied roughly 1/8″ in thickness. Usually used for fueling stations at airports, gas stations, and auto body shops. Life expectancy 3-5 years.
Fog Seal-Is oil cut 50 percent with water, most commonly used is CSS-1H. One coat is the norm and sprayed on very thin. There are no solids like the above sealers. Designed as a preventive maintenance seal. Most commonly used on airport runways, also used on roads or after chip seal. Life expectancy 1-3 years.
We can take any piece of property and transform it into a housing district, office complex, shop or access road. Our personnel can design and  build a parking lot with drains, culverts, lights, curb & gutter and asphalt. We also grade and compact existing roads and drives to reshape and eliminate wash boarding. Anything with dirt work we can do. Any type of dirt work is welcome. Full line of dump trucks to move dirt fast or bring in new. Below is a list of other services that we offer.
Excavating
Culverts
Drains
Hauling
Grading
Clearing
Road building
Digging Foundations
Cisterns
Water drainage problems
Location: MoBridge South Dakota
Owner-CFL
Year-2018
Type of Work-Pulverization & Paving
Amount-$4,400,000.00
Location: Great Falls Mt
Owner: Montana Air National Guard
Year: 2017
Type of Work: Mill, Pave, Crack Seal, Seal Coat
Amount: $1,325,000.00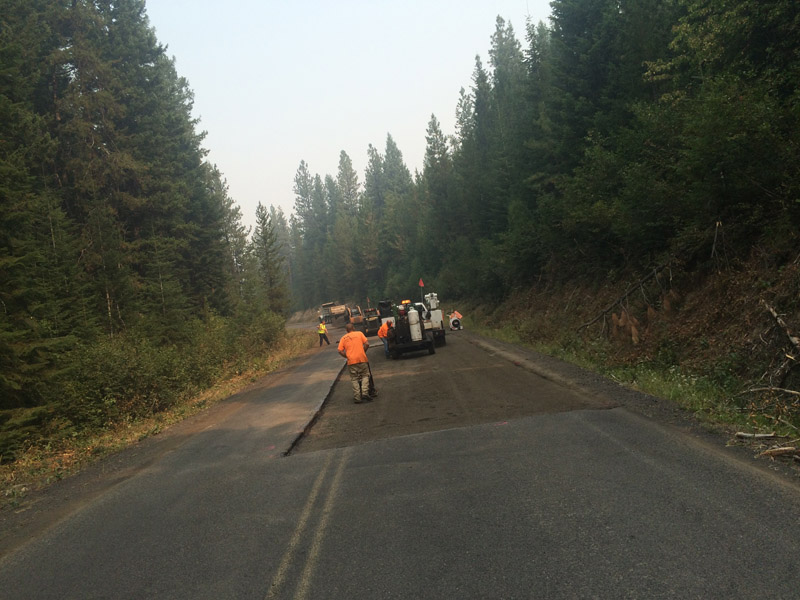 Location: Grangeville Idaho
Owner: Forest Service
Year: 2017
Type of Work: Remove & Replace, Slope Repair, Crack Seal, Tree Trimming
Amount: $600,000.00
Project: Wal Mart
Location: King Ave Billings Mt
Year: 2016
Type of Work: Mill & Overlay
Amount: $475,000.00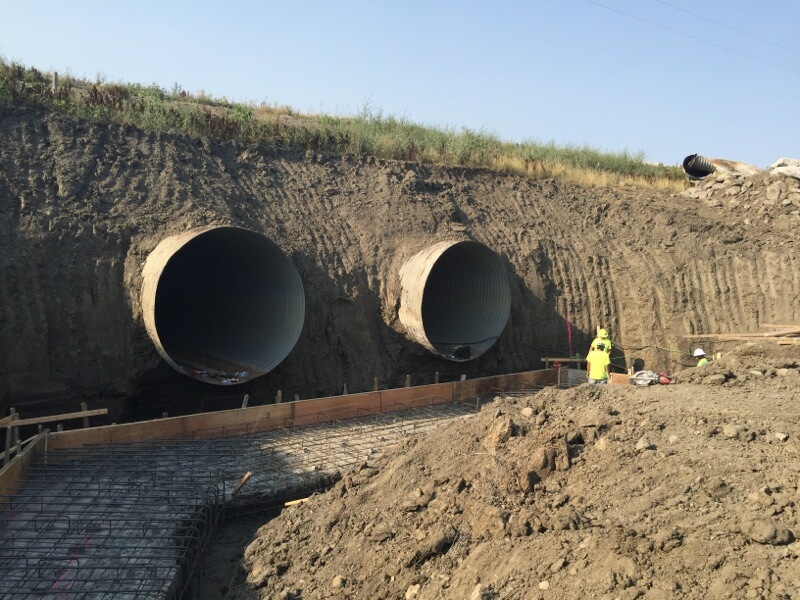 Project: Tall Prairie Chicken Creek Road
Location: Piere South Dakota
Owner: Central Federal Lands
Year: 2016
Type of Work: Remove & Replace Culverts
Amount: $890,000.00
Project: Standing Rock Culvert Replacement
Location: Fort Yates North Dakota
Owner: Central Federal Lands
Year: 2014
Type of Work: Box Culvert Replacement
Amount: $1,200,000.00
Project: Spring Creek Mine Access Road Rehab
Location: Decker, Mt
Owner: Cloud Peak Energy
Year: 2013
Type of Work: Mill, Crack repair, Soft Spot Repair, Pave
Amount: $1,270,000.00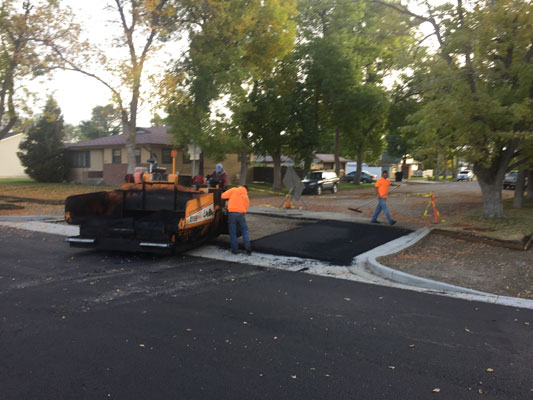 Project: Phase 3 Water & Sewer Rehab
Location: Crow Agency, Mt
Owner: Crow Reservation
Year: 2014
Type of Work: Street Preperation & Paving
Amount: $604,000.00
Project: District 2 School Parking Lot/Playground Rehab
Location: Billings, Mt
Owner: School District School
Year: 2015
Type of Work: Overlay, Crack Seal, Seal Coat, Stripe, Patch
Amount: $518,000.00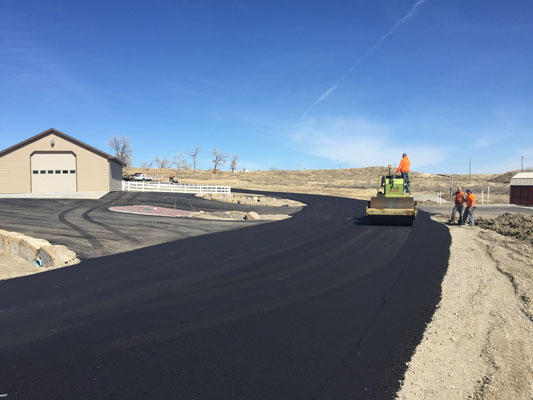 Project: Monad Extension
Location: Billings, Mt
Owner: Yellowstone County
Year: 2015
Type of Work: Road Building & Paving
Amount: $460,000.00
Project: Shopko Overlay
Location: Billings, Mt
Owner: Shopko
Year: 2014
Type of Work: Paving (Overlay)
Amount: $325,000.00
Project: MDT Hwy 408 Crack Seal
Location: Fairfield, Mt
Owner: State of Montana
Year: 2012
Type of Work: Crack Sealing, Striping
Amount: $140,000.00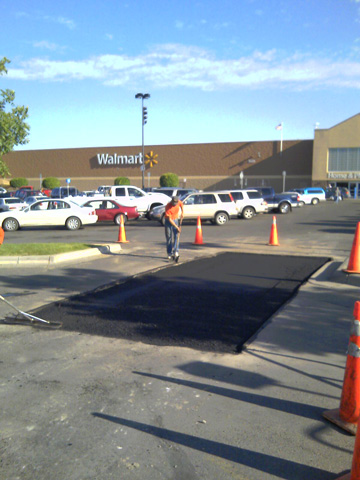 We offer 2 types of repairs for asphalt depending on severity of damaged area, (R & R &Mill & Fill). Our experienced staff will be more than honest in determining which method is best for your situation. Water drainage problems our specialty.
Remove & Replace (R & R)-This is the most common method of repairing asphalt. Saw cut, then remove bad area and replace or reshape existing base.  Then pave with new asphalt up to proper depth. To determine severity of damaged area we must see if it is an asphalt problem or a base problem. Sinking or heaving is a base problem and needs R & R patching, severe cracking in one location is an asphalt problem that is usually just in the first 1″ of your asphalt. And that is where mill and fill and infrared patching come into play.
Mill & Fill-Usually for larger areas were base is stable. An asphalt milling machine will grind up the asphalt to desired depth. Usually 1″ to 2″ depending on damaged area. This works great for older asphalt that has been neglected or surface of asphalt is worn but still drains good.
Let us bid on your next project.
There are 3 types of chip seal we perform.
Chip Seal – The first one is a maintenance chip seal, this is oil sprayed over your existing asphalt & covered with 3/8″ chips. This will give your asphalt a thicker layer of wear coarse & protection from the elements over the years to prolong the life of your asphalt. This must go over the top of existing asphalt that is in descent shape, designed for roads, sub-divisions, millings, recycled asphalt. This is the most commonly used one & has been around for years.
Scrub Seal – Is relatively newer, it is the same as above with a different oil & the oil is broomed into the cracks and covered with a 3/8″ or 1/4″ chip. It is designed for roads that are severly cracked & alligatored.
Double Chip Seal – A double chip is designed for going over a well based gravel/dirt road. It is 2 layers of chip with different sizes of chips on each layer. Done properly this cheaper version of asphalt will last 30 years.
These are brief discriptions please call with any ?'s or need further information.
Our crew hard at work!
We have 2 highway computerized milling machines, 7′ head & 4′ head that go along with our skid-steer planers, we can mill anything you have. We can meet all your asphalt roto-milling requirements. With trucks and support vehicles to tackle any size project. Milling parking lots, roads, streets, utility trenches for underground water & sewer projects, taper milling. Give us a call for pricing.